ADC at IGF 2019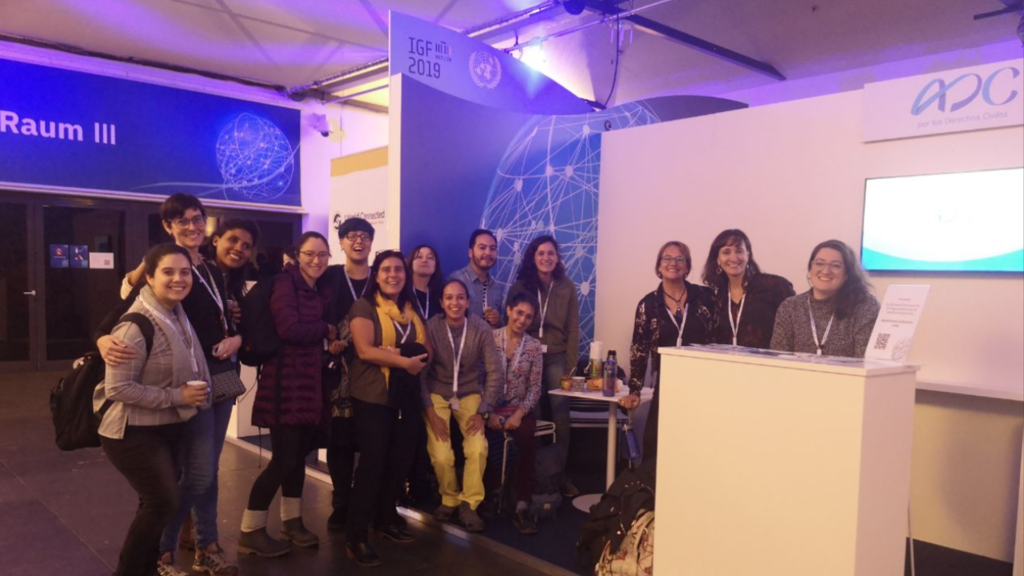 ADC participated in the Internet Governance Forum (IGF) from November 25 to November 29, where it had its own stand in the IGF Village. Throughout the event, which took place in Berlin, Germany, various representatives from ADC were present in the booth: Executive Director, Valeria Milanes; Strategic Litigation Director Alejandro Segarra; Associate Researcher Natalia Zuazo and Researchers Eduardo Ferreyra, Marianela Milanes, Sara Soubelet and Leandro Ucciferri. The ADC team devoted themselves to promoting their work, activities, and lines of action. They used graphic and audiovisual materials to present their work and had individual sessions with those visiting the stand, providing them with guidance and answering their queries.
Around 5 thousand people are thought to have attended this new IGF edition, with our stand becoming a meeting point for the Latin American civil society.
Side-event with AlgorithmWatch
On November 25, before the IGF formally began, we had a meeting with AlgorithmWatch, the NGO best known in the field of algorithmic decisions in Europe. In the event, presentations were delivered by Natalia Zuazo and Leandro Ucciferri, on behalf of ADC; and by Matthias Spielkamp and Fabio Chiusi on behalf of AW. Both parties introduced the audience to the approach and projects carried out by both organizations in the field of automated decisions.
The meeting favored an exchange of ideas and involved the participation of members from civil society organizations and their impact on fundamental rights.
ADC's participation in OECD panel

On November 26, our Executive Director, Valeria Milanes, delivered a presentation in the session "Artificial Intelligence, from principles to practice". In this opportunity, her contribution came during the first part of the session "OECD Recommendations on Artificial Intelligence", the aim of which was to promote discussions on the creation of an international political framework for AI.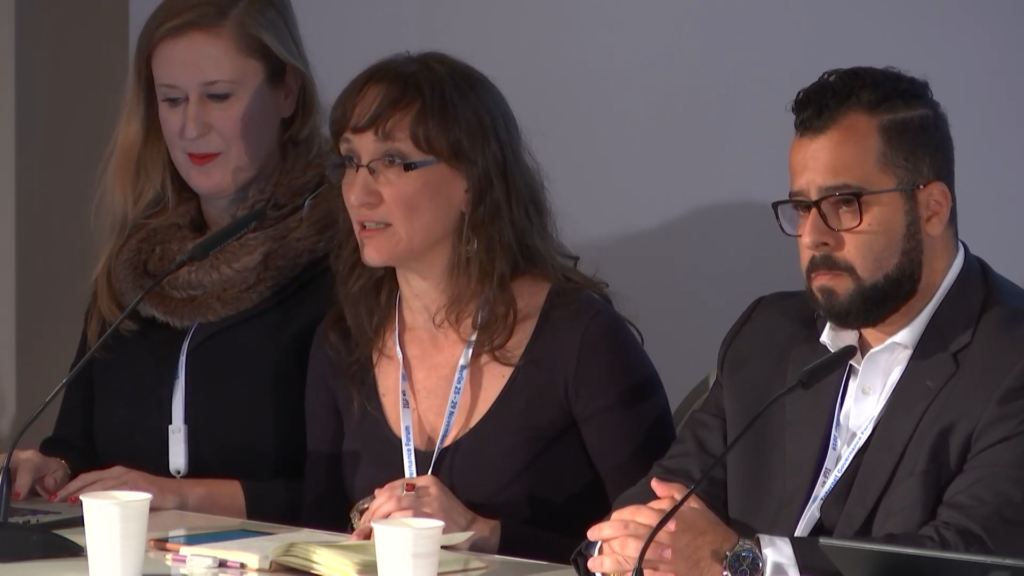 Milanes presented the topic from the perspective of civil society and based on her experience as executive director at ADC and member of the Executive Committee at CSISAC (Civil Society Consulting Committee for Information Society). Her contribution stressed the importance of the Universal Guidelines for artificial intelligence developed by The Public last year.
Meeting with Transparency International

On November 27, part of our team participating in the IGF in Berlin met with Transparency International in its main office to share the work done by ADC on the monitoring of online political advertising. We introduced PubliElectoral to an audience of 60 persons, a technological tool of social interest that allows for the collection of information relative to political advertising in social networks without affecting the privacy of user-citizens. "Political integrity" being one of its global priorities, Transparency International welcomed ADC's presentation with great interest, as it provided a fresh perspective on how said technology impacts that agenda and on how political advertising can be addressed under a new light.